Just Enough Madness
Photo credit: Sharad Sharma

DOUBLE BILL - JUST ENOUGH MADNESS, PAYAL RAMCHANDANI AND BURNT OUT, PENNY CHIVAS
Date: Friday 16th June 2023
Time: 7pm
Venue:

Dance City, Temple St, Newcastle upon Tyne NE1 4BR

Tickets: £15.00 - £12.50 students
Box Office: dancecity.co.uk

or call 0191 261 0505
Join us for a double bill presenting two solo pieces by female choreographers focusing on contemporary issues.

Burnt Out weaves spoken word and movement in a piece that is both an intimate personal story and a universal meditation and reflection on our changing climate. Penny Chivas work reflects on the devastating experiences of those who were impacted by the Australian bush fires in 2019/2020, otherwise known as the 'Black Summer'. With unavoidable political undertones, when tackling the subject of the climate, Burnt Out depicts the physical and emotional impact 'Black Summer' had on the people of Australia. Her performance exhibits a powerful portrayal of how performance can claim it's space within climate activism.

Through the Indian dance style of Kuchipudi, Just Enough Madness questions the popular definition of 'normal' in the context of mental health. Through contemporary and mythological narratives, the work acknowledges the existence of mental health battles through time and examines how the mind navigates different life experiences. Her performance challenges the current understanding of mental health within cultures that administer brutal practices of exorcism, ostracisation and victimisation are often caused and linked to mental health struggles.

In the context of mental health, it questions the popular notion of what constitutes 'normal' through dance. In this work, mental health battles from the past and present are acknowledged through contemporary and mythological narratives. We see the mind represented through movement traverse different stages of grief – denial, anger, bargaining, depression, and acceptance – as it navigates the knotted experiences of motherhood and loss. Ramchandani's performance shows the audience the struggle of trying to reach acceptance.
Reviews:
'Hard hitting and heart rending'- Pulse Connects
'Intense, internalised'- Stacey Prickett
'Ramchandani's hold on the subject is reflected in the ease with which she translates this extremely complex and layered psychological state into dance, clearly the culmination of immense thought, dedication and hard work'
-Resolution Reviewer
Presented by GemArts with Dance City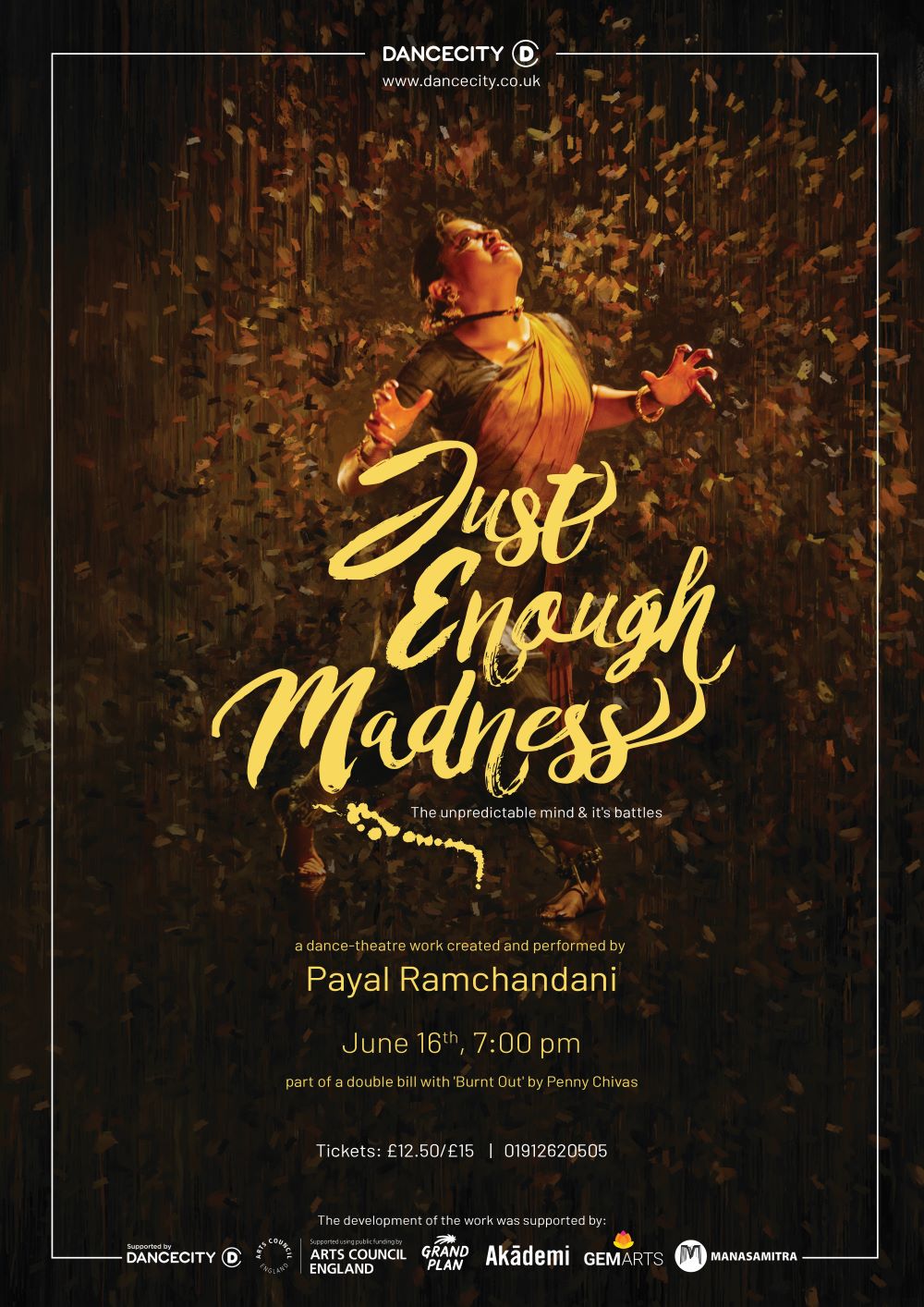 Date
Friday 16th June 2023
Time
7pm
Duration
Approx. 115 minutes with interval
Cost
£15 / £12.50
Venue
Dance City
Address
Temple Street, Newcastle upon tyne, NE1 4BR

Booking Details :




Online at dancecity.co.uk or call 0191 261 0505
GemArts is an Arts Award Centre and can support schools in Artsmark.
GemArts needs your support to help us deliver high quality arts projects to people of all ages and backgrounds.
Donate now