No Dogs, No Indians by Siddhartha Bose
Date: Wednesday 19th & Thursday 20th July
Venue: Live Theatre, Newcastle NE1 3DQ
Time: 7:30pm
Tickets: £10-£14 / Over 60s £12 / Other concessions £8 Available at www.live.org
Suitable for ages 14+, contains mild swearing scenes of violence.

How far would you go to resist oppression? What would you choose to remember, and what to forget? Are some wounds never meant to heal?
It is 1932 in occupied Bengal. A young woman named Pritilata Waddedar is preparing to lead a team of revolutionaries to attack a whites-only club in Chittagong, an act of defiance that will end in taking her own life. The sign above the club reads 'No Dogs, No Indians'.

Decades later, Shyamal Chatterjee is an aspiring intellectual born into post-independence Kolkata, once the second city of the Empire. His friends call him a "brown sahib" because he is in love with all things British, from Shakespeare to cricket and The Beatles. But as he contemplates the past and imagines his children's future, he begins to question his own identity. Is he an anomaly of colonial history, a relic from the Raj that is rapidly being forgotten?

It is 2017 - 70 years after independence. Ananda Chatterjee has returned from London on the news of his father's death. In pursuit of fame and fortune in the New India, he encounters steel magnates, supermodels and tech millionaires. But behind the gloss of success, he is haunted by ghosts from India's past - and from his own.

Three intertwining stories explore the effects and legacy of the British in India in a powerful new play by poet and playwright Siddhartha Bose (Kalagora) to mark the 70th anniversary of independence.

Presented with Live Theatre.

Cast
Komal Amin
Omar Khan
Archana Ramaswamy
Navinder Bhatti

Credits
Written by Siddhartha Bose
Directed by Russell Bender
Costume design by Mila Sanders
Sound design by Edward Lewis
Stage management by Lauren Cameron

Produced by Penned in the Margins

Commissioned by Brighton Festival, Southbank Centre, Live Theatre, GemArts, Writers' Centre Norwich and Norwich Arts Centre.

Supported using public funding by Arts Council England.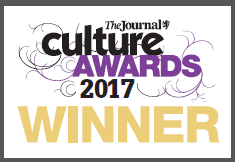 GemArts Masala Festival 2016 was named winner of the Arts Council Award at the Journal Culture Awards 2017.

Date
Wednesday 19th July 2017
Time
7:30 pm
Duration
19th & 20th July
Cost
£14-£10 (see www.live.org.uk for concessions)
Venue
Live Theatre
Address
Broad Chare, Quayside, Newcastle upon Tyne NE1 3DQ

Booking Details :




Available from www.live.org.uk
GemArts is an Arts Award Centre and can support schools in Artsmark.
GemArts needs your support to help us deliver high quality arts projects to people of all ages and backgrounds.
Donate now