Riverside Ragas: Purbayan Chatterjee & Gurdain Rayatt
Photo credit: Purbayan Chatterjee - Arnhel De Serra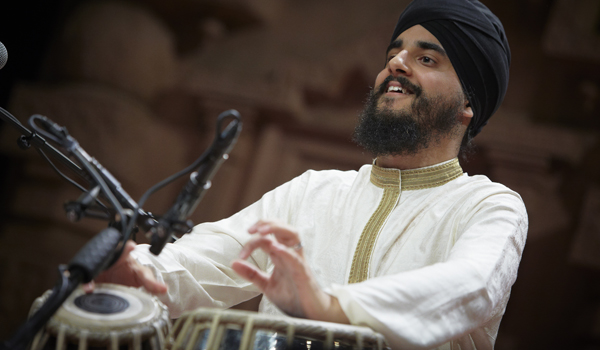 Photo credit: Gurdain Rayatt - Arnhel De Serra
Riverside Ragas: Purbayan Chatterjee & Gurdain Rayatt
Friday 21st September 2018
Performance 8pm
Tickets: £13.10 / Family ticket £32.70
Box Office:
Online at

sagegateshead.com

or call 0191 443 4661

​

Taking inspiration from the late Pandit Nikhil Banerjee, Purbayan Chatterjee is now known for his ground-breaking style in creating original sounds on the sitar using Indian traditions that evokes deep emotions. Fearlessly creative, he is a rare instrumentalist with a unique musical repertoire, innovative skills and the dexterity of swift, agile fingers. He is accompanied by Gurdain Rayatt on the tabla, acclaimed for his improvisational sensitivity.



Presented with GemArts, Sage Gateshead and Darbar.
Date
Friday 21st September 2018
Time
8pm
Duration
90 Mins with no interval
Cost
Tickets: £13.10 / Family ticket £32.70
Venue
Sage Two, Sage Gateshead
Address
St Marys Square, Gateshead Quays, Gateshead NE8 2JR

Booking Details :




Online at sagegateshead.com or call 0191 443 4661
GemArts is an Arts Award Centre and can support schools in Artsmark.
GemArts needs your support to help us deliver high quality arts projects to people of all ages and backgrounds.
Donate now