GemArts Masala Festival
GemArts award winning Masala Festival is a weeklong festival celebrating South Asian Arts and Culture, packed full of events, workshops, classes, pop ups and demonstrations, presented in places and spaces accross the North East.

Since its launch in 2016, the festival has become a yearly celebration of South Asian arts and culture, bringing audiences the best music, dance, visual arts, film, literature, performance, workshops, family fun days, food events and much more. The programme presents a diverse mix of contemporary and traditional South Asian arts and identities, curated by GemArts, with help from key partners across the region and beyond. GemArts Masala Festival won the coveted Arts Council Award at The Journal Culture Awards in 2017 and has been nominated for Best Event Tyneside in 2018.

Over 7 days in July, thousands of people enjoy Masala Festival, and join in celebrating the very finest mix and blend of South Asian arts and culture, right here in the North East.

Find out about previous programmes by clicking on the year; 2016 and 2017. GemArts Masala Festival returns this summer, with another incredible programme between the 14th and 22nd July 2018, click here to find out more.

GemArts Masala Festival film by North East videographer Jodie Canwell.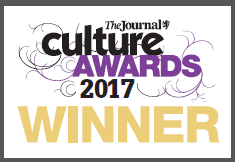 If you can help support our work please consider making a donation today, your gift will help us bring even more opportunities like Masala Festival to people across the North East. DONATE HERE.
GemArts is an Arts Award Centre and can support schools in Artsmark.
GemArts needs your support to help us deliver high quality arts projects to people of all ages and backgrounds.
Donate now