Changes: Stories on the edge
Image: Still from Heer (Dir Honey B Singh)
Date: Friday 21st July
Venue: BALTIC Centre for Contemporary Art
Time: 7pm
Tickets: £5
Box Office: Online ticket option has now closed. You can still buy in cash on the door.

Masala Festival welcomes back Bobby Tiwana to curate a programme of film shorts.

What is it to not know where your next meal is coming from? Or what awaits you at home…what life will hold now that mum has gone.

What's the tipping point
Beyond the precipice
This moment no more
Tomorrow's clean slate
The life to come

Changes - a programme of lives on the edge. Personal and political conflicts test human resolve. Showing film shorts from Canada, India, Sri Lanka and the UK.

Read about Bobby's film choices in his blog post here.

Featuring the following short films:

Heer
Heer is a young girl whose journey of loss and acceptance begins and ends with her relationship to a baby goat in rural North India.

Dir. Honey B Singh, Canada, 2015
Cast: Heer (Nimrat Kaur); Father (Baljinder Singh Darapuri)

Mouth of Hell
In Jharia, India, fires rage underground. Smoke and fumes belch from cracks in the ground. One day a chance encounter changes Anant's life forever.

Dir: Samir Mehanovic, UK, 2016
Cast: Anant (Suraj Mondal); Sushila (Ramanjit Kaur); Santosh (Taranjit Kaur)

The School Bag
A young boy in Pakistan has only one wish from his mother on his birthday.

Dir. Dheeraj Jindal, India, 2016
Cast: Ammi (Rasika Duggal) and Faaroq (Sartaaj RK)

Out of Darkness
An aid worker traces their past from a turning point at the age of three. Out of Darkness is a visual distillation of a story told through nine voices.

Dir. Manjinder Virk, UK, 2014
Cast: Riz Ahmed; Asheq Akhtar; Jimmy Akingbola; Christine Bottomley; Monica Dolan; Noma Dumezweni;
Andrew Gower; Tom Hiddleston and Manjinder Virk

Returned
A man awakes from the shore and tries to make sense of what has gone before. Part of a new wave of Sri Lankan films after 26 years' of civil war.

Dir: Vathees Varunan, Sri Lanka, 2015
Cast: man (Jayampathi Guruge)

Sisak
A chance encounter on a train between two men leads to a daily ritual of desire, longing and intimacy. Sisak is a beautiful study of intimate human desire in a public space.

Dir: Faraz Arif Ansari, India,
Cast: Z (Jitin Gulati) and A (Dhruv Singhal)

Curated by Bobby Tiwana.

Ticket includes welcome drink and post-screening discussion with industry contributors.

Age 14+

Running time 2 hours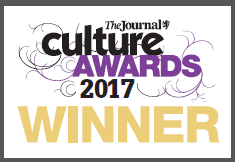 GemArts Masala Festival 2016 was named winner of the Arts Council Award at the Journal Culture Awards 2017.

GemArts is part of registered charity GVEMSG, generous donations help ensure Masala Festival events are acceesible to all, and offer something everyone can enjoy. If you can, please make a donation and help us offer opportunities for people of all backgrounds to come together to experience high quality diverse arts, and the benefits of participating. You can make a gift to Masala Festival using the secure donation here, or contact sinead@gemarts.org for alternative ways of giving. Thanks to Arts Council England Catalyst Evolve funding each £1 we raise through donations can be doubled!
Date
Friday 21st July 2017
Time
7pm
Duration
Approx 2 hours
Cost
£5
Venue
BALTIC Centre for Contemporary Art
Address
South Shore Road, Gateshead NE8 3BA

Booking Details :




Online ticket sales have closed but you can still buy tickets on the door for this event. Cash only.
GemArts is an Arts Award Centre and can support schools in Artsmark.
GemArts needs your support to help us deliver high quality arts projects to people of all ages and backgrounds.
Donate now