Changes: Stories on the edge
Image: Still from Heer (Dir Honey B Singh)
Date: Friday 21st July
Venue: BALTIC Centre for Contemporary Art
Time: 7pm
Tickets: £5
Box Office: Buy online here or email info@gemarts.org to arrange payment

Masala Festival welcomes back Bobby Tiwana to curate a programme of film shorts.

What is it to not know where your next meal is coming from? Or what awaits you at home…what life will hold now that mum has gone.

What's the tipping point
Beyond the precipice
This moment no more
Tomorrow's clean slate
The life to come

Changes - a programme of lives on the edge. Personal and political conflicts test human resolve. Showing film shorts from India, the UK, and global South Asian diaspora communities.

Curated by Bobby Tiwana.

Ticket includes welcome drink and post-screening discussion with industry contributors.

Age 14+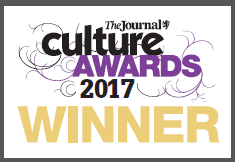 GemArts Masala Festival 2016 was named winner of the Arts Council Award at the Journal Culture Awards 2017.

GemArts is part of registered charity GVEMSG, generous donations help ensure Masala Festival events are acceesible to all, and offer something everyone can enjoy. If you can, please make a donation and help us offer opportunities for people of all backgrounds to come together to experience high quality diverse arts, and the benefits of participating. You can make a gift to Masala Festival using the secure donation here, or contact sinead@gemarts.org for alternative ways of giving. Thanks to Arts Council England Catalyst Evolve funding each £1 we raise through donations can be doubled!
Date
Friday 21st July 2017
Time
7pm
Duration
Approx 2 hours
Cost
£5
Venue
BALTIC Centre for Contemporary Art
Address
South Shore Road, Gateshead NE8 3BA

Booking Details :




Buy online here or email info@gemarts.org to arrange alternative payment.
GemArts is an Arts Award Centre and can support schools in Artsmark.
GemArts needs your support to help us deliver high quality arts projects to people of all ages and backgrounds.
Donate now