Masala Festival Mini Mela
THIS EVENT HAS ALREADY TAKEN PLACE. PLEASE VISIT THE WHATSON PAGE FOR INFORMATION ON SIMILAR UPCOMING EVENTS.

Date: Sunday 23rd July
Venue: Live Gardens, Live Theatre
Time: 11am to 3pm
FREE EVENT

The finale of Masala Festival will spice up Live Garden, with a mix and blend of South Asian flavours. Featuring arts and crafts, music and performance, food, drink and storytelling.

Create beautiful Rangoli, get dancing to Bollywood music, follow an Indian storytelling on an adventure, have a go a go on the Dhol drum and take part in buckets full of other activities. A real feast from the East, with delicious Indian street food, Henna and face painting also on sale.

Workshops are FREE.
(Henna&Face Painting Suggested Donation, Food can be purchased)

Presented with Live Theatre.

The outstanding Rajasthan Heritage Brass Band will join us for performances throughout the day, don't miss your chance to see this exciting band who embody the rich culture, tradition and heritage of Rajasthan, their music and dance a heady, exciting and hypnotic reflection of this enchanting region. Here is a sneak peek of what to expect from these fantastic musicians.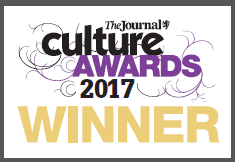 GemArts Masala Festival 2016 was named winner of the Arts Council Award at the Journal Culture Awards 2017.

GemArts is part of registered charity GVEMSG, generous donations help ensure Masala Festival events are acceesible to all, and offer something everyone can enjoy. If you can, please make a donation and help us offer opportunities for people of all backgrounds to come together to experience high quality diverse arts, and the benefits of participating. You can make a gift to Masala Festival using the secure donation here, or contact sinead@gemarts.org for alternative ways of giving. Thanks to Arts Council England Catalyst Evolve funding each £1 we raise through donations can be doubled!
Date
Sunday 23rd July 2017
Time
11 am
Duration
4 hours
Cost
FREE EVENT
Venue
Live Garden
Address
Live Theatre, Broad Chare, Quayside, Newcastle, NE1 3DQ

Booking Details :




Drop in activity, no booking required.
GemArts is an Arts Award Centre and can support schools in Artsmark.
GemArts needs your support to help us deliver high quality arts projects to people of all ages and backgrounds.
Donate now