We Stand Together
We Stand Together is an award winning anti-discriminatory arts project delivered by GemArts in partnership with The Gateshead Housing Company and Gateshead Council's Safer Communities Team. The project enabled young people to engage, discuss and create artwork around Hate Crime awareness and reporting, using hate crime reporting statistics and other resources to highlight the issue. Young people's art work has gone on to help GemArts spread Hate Crime awareness and encourage reporting across the North East and beyond.

We Stand Together animation by pupils at Heworth Grange Comprehensive School



The project engaged two classes of Gateshead secondary school pupils with arts activity focused on the themes, and increased the impact of the project by creating resources which can be shared. As part of the project Year 9 pupils at Heworth Grange Comprehensive School worked with visual artist, Lesley-Anne Rose, to create an innovative animation, and Year 8 pupils at Joseph Swan Academy worked with visual artist, Creative Ginger, to design a powerful poster campaign. The young people developed a range of creative skills, and through the artistic process were able to build their confidence to discuss different types of hate crime, encouraging ownership in the project.

We Stand Together poster designs by pupils at Joseph Swan Academy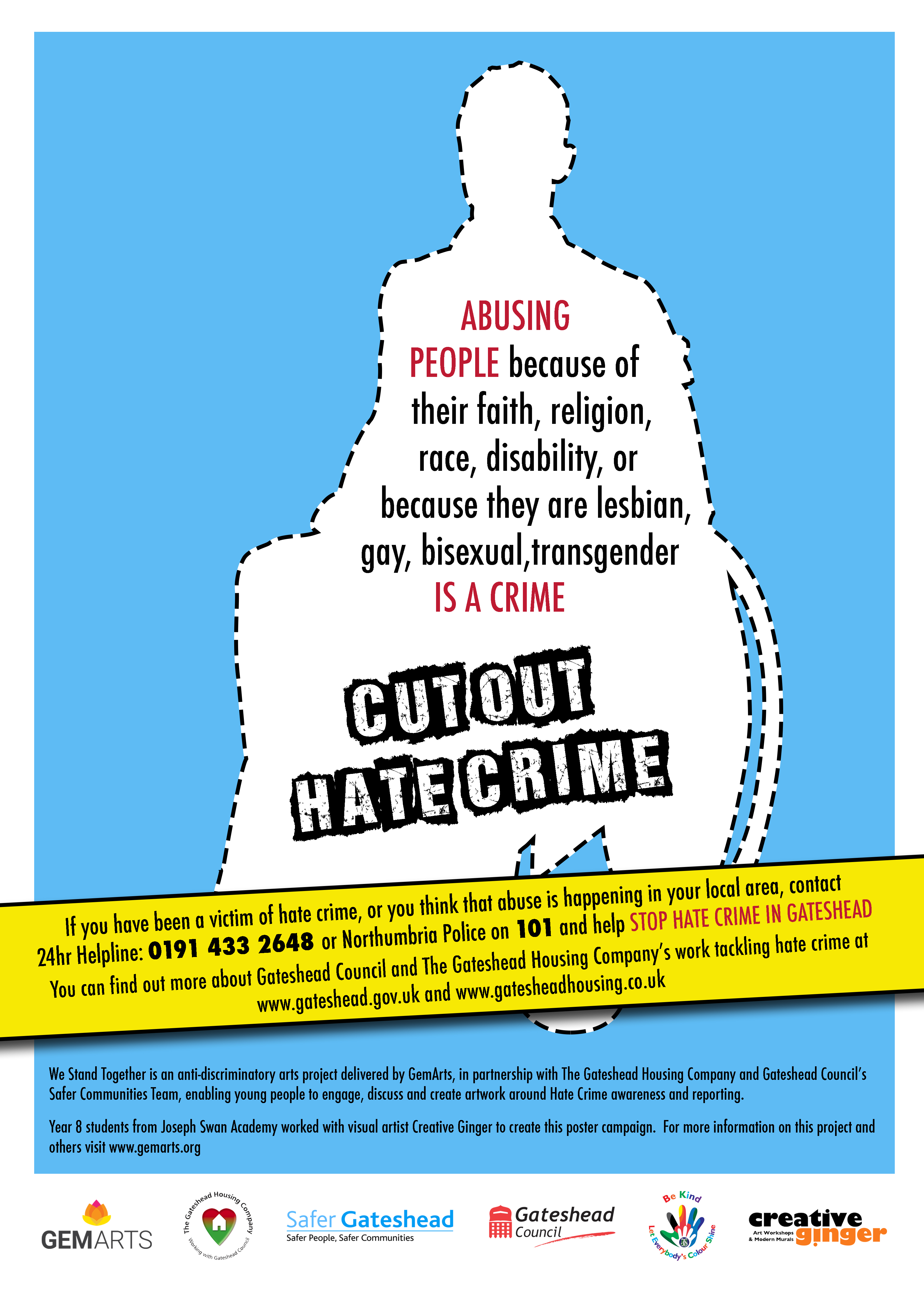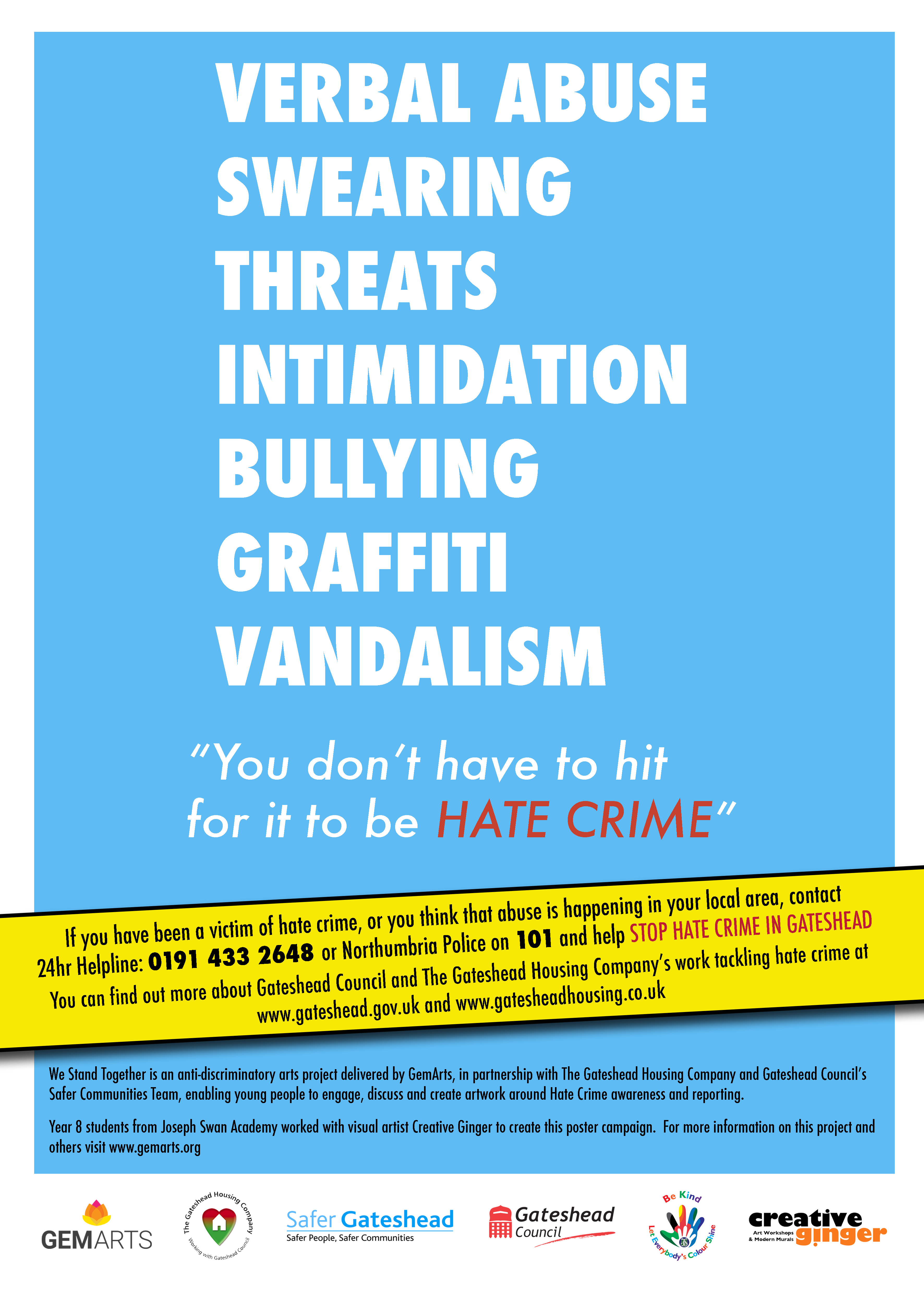 Feedback from artists, teachers and participants was collected to assess the success of the project and plan for future work. A teacher who worked on the project said the following;
"The great thing about the medium of animation is that it forces students to come up with a narrative. They can't just copy from a resource, they have to understand and interpret it creatively. Thank you so much for bringing this workshop to Heworth Grange Comprehensive. It was a pleasure to participate myself, the students loved it, and on the whole I thought it was successful, and I can't wait to see the results."

The project was delivered by GemArts, funded by The Gateshead Housing Company www.gatesheadhousing.co.uk/hate-crime-if-you-see-it-report-it/ , and Gateshead Council's Safer Communities Team www.gateshead.gov.uk.

We Stand Together was announced winner in the

Excellence in Equality & Diversity category of the TPAS Awards

National finals in July 2016, r

unner up in the Partnership of the Year category of the IARS Research and Youth Leadership Awards 2015 in November 2015, and participants on the project were also announced runner up in the Youth Media category for the Youth Network: North East Positive Social Behaviour Order Awards 2015 ceremony in December 2015.
To support GemArts work bringing creative projects which spread equality and diversity messages, and help tackle important issues, please consider making a donation to our work here.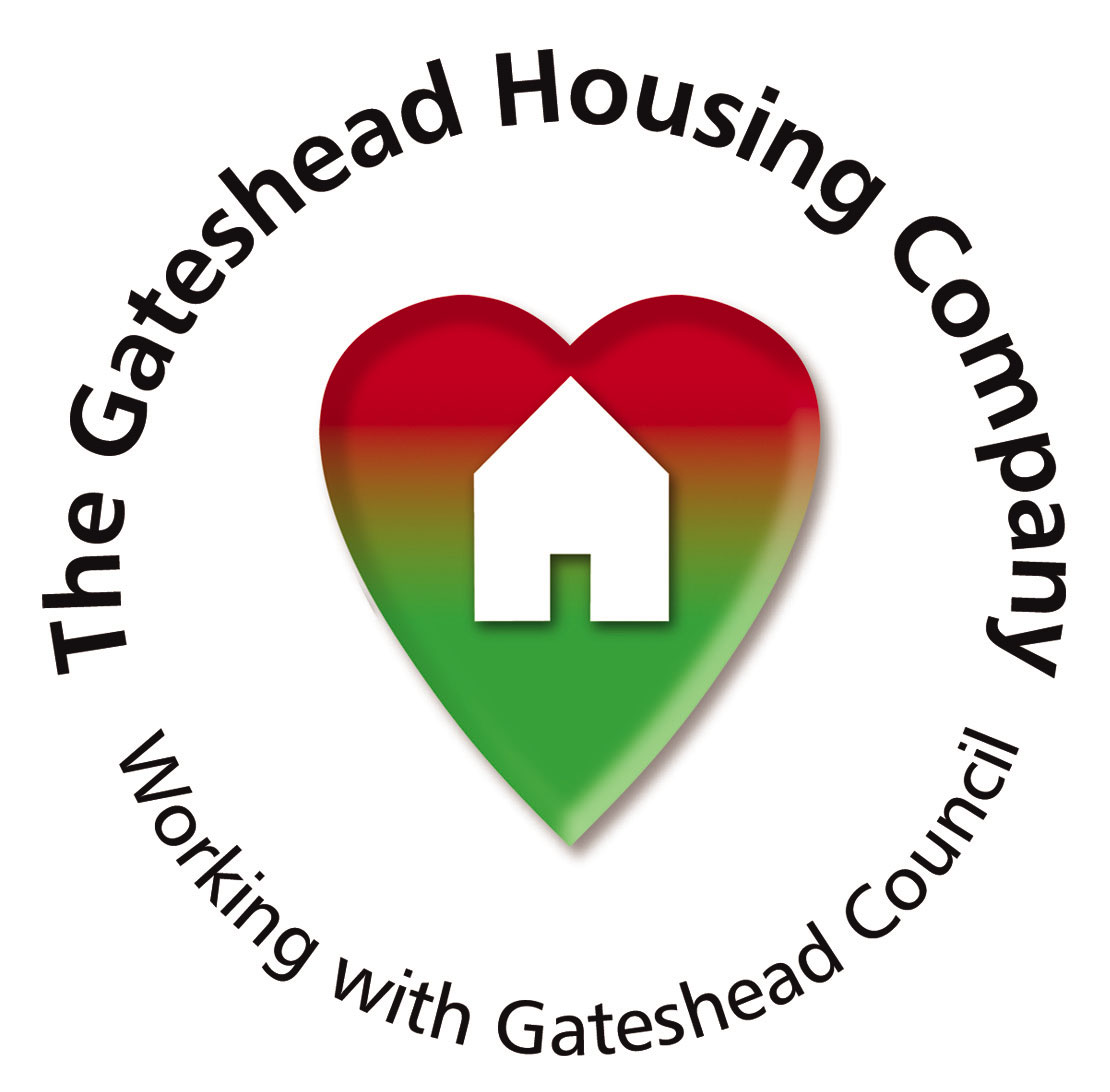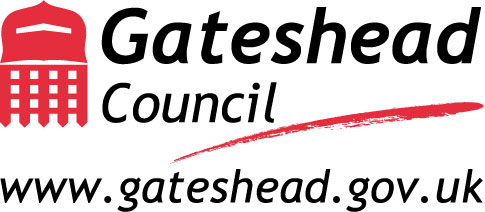 GemArts is an Arts Award Centre and can support schools in Artsmark.
GemArts needs your support to help us deliver high quality arts projects to people of all ages and backgrounds.
Donate now